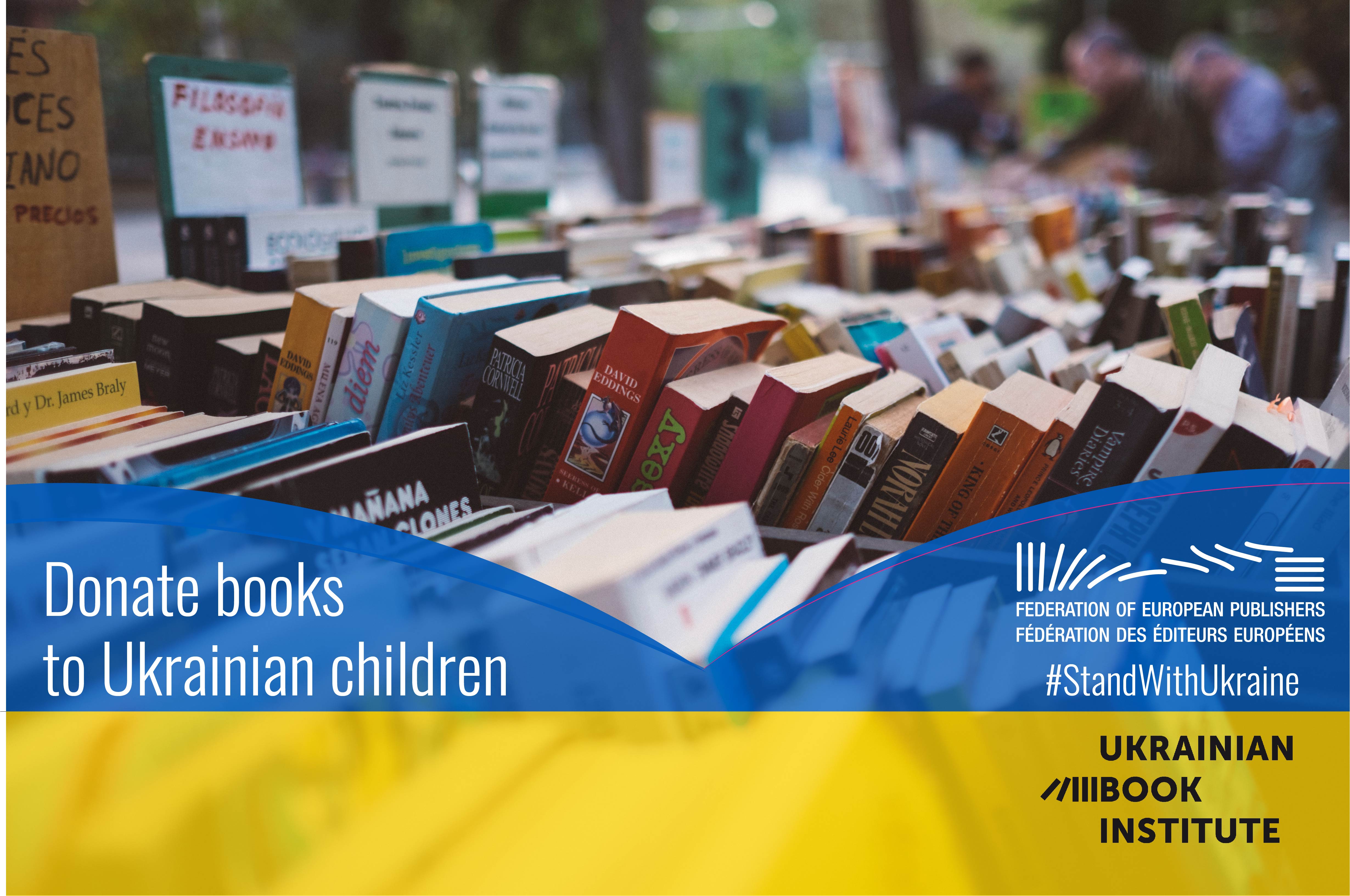 UBI introduces several ways how you can get a Ukrainian book abroad
1. Crowdfunding campaign to support printing of Ukrainian children's books
About 5 million refugees and among them many, many children who left their homes only with the minimum essentials. These children need to find comfort, these children need to continue being children, and they need to play, learn, read. The Ukrainian Book Institute, supported by the Federation of European Publishers, appeals to the generosity of the book world. By launching this crowdfunding campaign in Bologna with the support of the Bologna Children's Book Fair (other fairs are of course invited to join in), the Ukrainian Book Institute hopes to raise enough funds to have hundreds of thousands of children's books printed in Europe (since the Ukrainian city of Kharkiv where the main printing works are located have been heavily bombed in Ukraine by Russia). These Ukrainian books will allow children to be entertained while keeping the link with their homeland.
All the money collected will be managed remotely by the UIB, responsible for choosing the titles and coordinating with local relays for the printing and distribution of the books to the children. As for 12/05/2022, about 40000 € were collected for 35000 copies for refugees in Poland, Germany, Italy, Hungary.

Donate here (Fundraising campaign by Federation of European Publishers on GoGetFunding)
Also, you can donate to our partners in Poland and Lietuva:
1.
INNA BAJKA – KSIĄŻECZKI DLA DZIECI Z UKRAINY
Darowizny można przekazywać na konto:
Fundacja Edukacja dla Demokracji
Nr konta: 51 1240 6322 1111 0000 4607 1075
Tytułem: darowizna na cele statutowe – książeczki dla Ukrainy
As for 12/05/2022 about 30000 copies were printed and distributed in Poland.
For international transfers:
Account holder: Fundacja Edukacja dla Demokracji
Address: ul. Nowolipie 9/11, 00-150 Warszawa
Bank name: Bank Pekao SA
SWIFT/BIC: PKOPPLPW
IBAN: PL51 1240 6322 1111 0000 4607 1075
Transfer title: donation for statutory purposes – books for Ukraine
2.
"Laiko skrynia" Public organization
Code 305770634
IBAN LT065013000014001158
Bank: Anykščių kredito unija
SWIFT LCKULT22XXX
Pienagalio k. 5, Pienagalys, LT-29309 Anykščių r.
Payment for: Donation
As for 12/05/2022 about 15000 copies were printed and distributed in Lithuanian.
2. You can print Ukrainian books by yourself
If you want to help quickly publish and distribute books for refugees where the books are needed in European cities, Ukrainian publishers provide ready-to-print original layouts in printing quality and permission for free distribution in the countries where refugees are located.
To get such permission and files for printing, interested parties should contact the Ukrainian Book Institute's coordinator and gain access.
For contacts: [email protected]
We can now provide access to 36 layouts from 9 publishers, which can be previewed on Google Drive. Stakeholders of this could be NGOs that work with refugees, embassies of Ukraine, libraries, authorities and printing houses. The link provides all the necessary information on the basis of which the local publishing houses can calculate the cost of printing. Those ready to help can join in fundraising, form orders for printing according to the amount of money raised, order and pay for printing and books distribution. We can conduct this project within a completely legal framework. The rights holders agreed on the relevant statement.
Please, ad the disclaimer on the books you print.
There are books on the disk for children aged 3-9, but we hope to have more books for a wider age range.
You can read our successful print cases. Click here and one more story here.
3. Where you can buy Ukrainian books for distribution abroad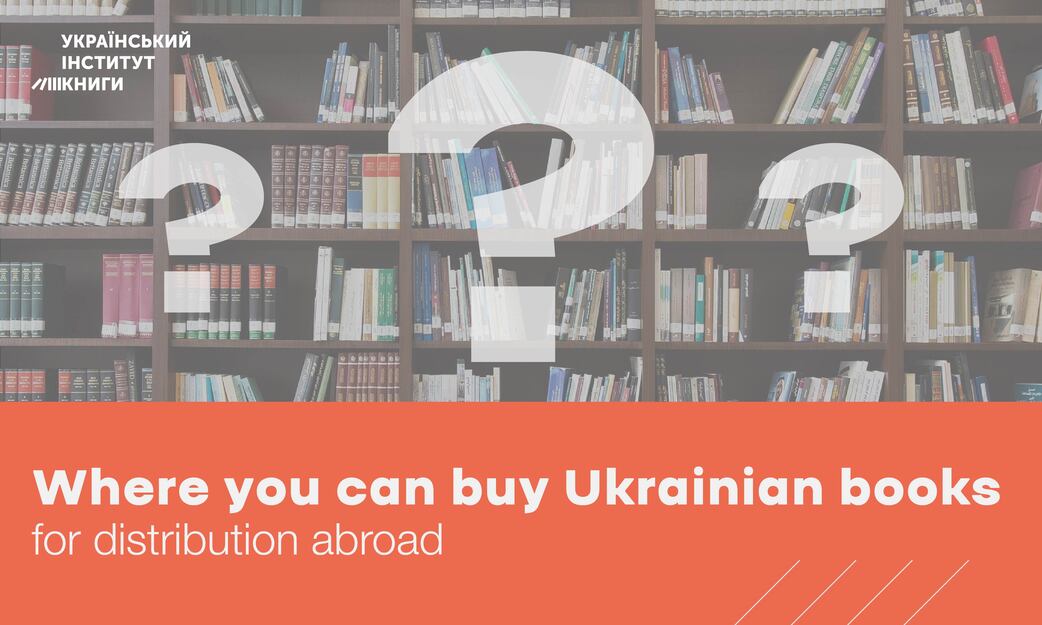 To the attention of libraries, schools, and local governments of countries that have provided shelter to Ukrainian refugees.
If you intend to buy printed Ukrainian books, you want to conclude official contracts for the acquisition of libraries, we advise you to turn to well-known book chains and online stores.
UBI provides up-to-date contacts of Ukrainian booksellers who are ready and able to conclude and fulfil an export contract for the supply of book products - with all the necessary documents and in compliance with legal requirements. They all have convenient sites for choosing books and offer a wide range of dozens of publishers from all over Ukraine - books of various genres for children and adults.
Contact them directly and negotiate a purchase.
Also, you can always count on advice from experts from the Institute. For contacts: [email protected]
| | | | |
| --- | --- | --- | --- |
| Bookseller | Web | Contact person | Email |
| YE / Є | | Olha Salata +380667464110 | |
| Yakaboo / Якабу | | Maya Kichuk +380674684901 | |
| Bukva / Буква | | Oleksandr Kutuzov +380986536399 | |
| Knyholand / Книголенд | | Ihor Zarudko +380975999229 | |
| Dim knyhy / Дім книги | | Oleh Domaretsky +380971809030 | |
| NF / НФ | | Larysa Kot +380672475717 | |
| Moya knyzhkova polytsya / Моя книжкова полиця | | Olena Zhupanova +380972319905 | |
| Vivat Publishing / Віват | | Ruslan Onoshchenko +380508852831 | |